Rotary Bushings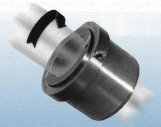 Gatco Anti-Friction Rotary Bushings are self-contained bearing cartridges used to support and guide rotating cutting tools. They consist of a stationary outer case, a hardened and ground inner liner which rotates with the cutting tool; anti-friction bearings and seals. They are manufactured in several series with each having distinct advantages that cover the broadest range of metal working applications. While available in a wide range of standard sizes, Gatco Rotary Bushings are commonly and readily modified to suit individual requirements or specifications.
Gatco Rotary Bushings help provide precision cuts as well as eliminating chatter, heat and wear often encountered using standard drill bushings. While many other uses continue to be found, Gatco Rotary Bushings are used primarily to guide and support rotating cutting tools in applications such as:
Precision Line Boring
Spot Facing
Reaming
Core Drilling
Hollow Milling
Gun Drilling Recessing Tools
Milling Arbor Supports
Special Machine Tools
Drilling
Inspection Fixtures
Click Here for Components Used
Recommended for use only when one end of the guided bar is rigidly supported in a spindle. Number Series bushings are rigid, friction free rotary guide or support bushings which incorporate a heavy duty, double row ball bearing. Number Series bushings are recommended when precision finish part tolerances are not required, in applications such as drilling.
---
These rotary bushings are recommended for use with a bar rigidly mounted in a spindle or with a floating bar. GTR and GTRS bushings incorporate a pair of tapered roller bearings which are capable of taking high radial, thrust and shock loads. They are commonly used in operations where interrupted cuts and heavy loads are encountered such as gang milling.
---
Are recommended for use when one end of the bar is mounted rigidly in a spindle. GN bushings are commonly used in applications where space is limited. Their needle bearing construction allows for closer centerline distances between spindles. N series bushings are identical in construction to the GN series except peripheral dimension.
---
These bushings are for use with bars mounted rigidly in a spindle. GB bushings incorporate ball and retainer bearing construction. Because the balls are pre-loaded, running clearances are removed and more precise bushing runout is realized. GB series bushings are commonly used for precision line boring when the close centerline distance of the part will not accept the G series.
---
For use with a bar rigidly mounted in a spindle or with a floating bar. G series bushings feature a spaced pair of single row ball bearings for maximum stability needed with longer bar travel. G series bushings are recommended where finished part tolerance is critical in operations such as precision line boring. These bushings can be provided with tighter size and runout tolerances than standard.
---
Are used when the bar is mounted rigidly in a spindle. GNT bushings are commonly used in operations where space is limited. Their unique construction allows a large I.D. for a given O.D.. Because they incorporate needle bearings, they are capable of withstanding high radial loads but only nominal thrust loads. They are commonly used in multiple spindle operations where centerline distances between spindles is limited.
---
These bushings were developed to be used in conjunction with recessing holders. They provide high thrust capabilities required to activate recessing tools. Their unique design incorporates needle bearings for maximum radial load capacity as well as a thrust bearing for thrust loading. Recessing bushings can be used in any operation where high thrust and radial loads are encountered.
---
Special Designs And Features
Standard Gatco Rotary Bushings are commonly modified for particular applications. If a standard or modified standard will not meet your requirements contact Gatco for a search of over 3000 special designs.
Gatco offers a special design service for rotary bushings. Your special design requirements will be taken from design concept through final manufacture. Our engineering department can make recommendations which will make your machine run at maximum optimization. Because of our CAD capability, if we are furnished with size and performance requirements, a special design can usually be prepared for customer's approval within hours. When requesting a special design, please provide prints and all pertinent information regarding the operation. Availability for specials and standards is the same; pricing covers the additional features ordered.
Contact GATCO and send your requirements for an immediate design and quotation.
Listed below are features commonly requested to be incorporated into rotary bushings:
Straight Flats
Special Tolerances
Radius Flats
Drill & C-sink Holes
Special I.D.
O.D. Grinding
Special O.D.
Counter Clockwise Rotation
Leads Hardened O.D.
Tapped Holes
Key
Face Grinds
Timing Leads
Keyway
Etch
Slots