Rotary Toolholders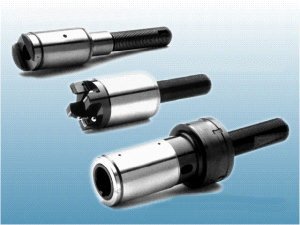 GATCO Anti-Friction Rotary Toolholders are a combination of a solid toolholder with an exterior bearing assembly. They are far superior to solid toolholders in that they eliminate the need for adjustable wear strips, thereby eliminating adjusting downtime.
Due to "friction-free" bearing construction, operating temperatures are lowered, permitting higher speeds while eliminating chatter and guide sleeve wear. Their compact construction allows closer center-to-center distances than can be achieved with rotary bushings. Through precision manufacturing, tight tolerances are achieved.
While more expensive than solid toolholders, the cost per piece machined is dramatically lowered, due to virtually no downtime caused by bushing or holder wear normally encountered with solid toolholders. At the same time, scrappage is minimized and tool life is extended. Construction
Rotary Toolholders consist of:
Outer Shell: Hardened steel, O.D. precision ground to size and tolerance shown. Non-rotating in use.
Rotating Shaft: Hardened steel, precision ground to size and tolerance shown. Toolholders are provided with four standard types of tool sockets from which to choose. (additional socket and shank combinations are available)
Bearings: Caged needles provide anti-friction rotation and radial load support.
Seals: Seal and rear flinger extend the life of the Rotary Toolholder.
Lubrication: Lubricated with light duty general purpose grease. Lube hole provided for maintenance lubrication.
Note: Woodruff key, stop nut and drawbar are not included.
Operation
In operation, a Gatco Anti-Friction Rotary Toolholder is guided by a support sleeve as it travels toward the workpiece. The recommended close tolerance fit (.0003 to .0005 clearance) of the shell to the support sleeve restricts the shell from rotating. The Toolholder shaft rotates friction free within the needle bearings providing an accurate, chatter free operation.
In addition, the anti-friction rotation all but eliminates heat build-up and thermal expansion, greatly increasing the life of the Toolholder, the support sleeve and the tooling. Also, higher operating speeds can be achieved. This ultimately results in a lower cost per piece machined.
Special Designs And Features:
Special Toolholders and modified standards can be designed for specific applications. Rotary Toolholders can be furnished with tapered shanks, special O.D.'s, special lengths, etc.. In an effort to provide the metal cutting industry with a wide selection of Rotary Toolholders, Gatco, Inc. also offers Rotary Toolholders in metric sizes, Coolant Induced Rotary Toolholders, Indexable Rotary Toolholders and Floating Rotary Toolholders.
Standard Gatco Rotary Toolholders are commonly modified for particular applications. If a standard or modified standard will not meet your requirements contact Gatco for a search of over 3000 special designs.
Gatco offers a special design service for rotary toolholders. Your special design requirements will be taken from design concept through final manufacture. Our engineering department can make recommendations which will make your machine run at maximum optimization. Because of our CAD capability, if we are furnished with size and performance requirements, a special design can usually be prepared for customer's approval within hours. When requesting a special design, please provide prints and all pertinent information regarding the operation. Availability for specials and standards is the same; pricing covers the additional features ordered.
Contact Gatco and send your requirements for an immediate design and quotation.
Advantages:
Eliminates wear strips
Improves cutting tool life and performance
Friction free operation
Increases accuracy
Minimizes thermal expansion
Enables high speed operation - heavier cuts
Minimal support sleeve wear
Eliminates chatter
Reduces downtime
Listed below are shanks and sockets which rotary toolholders can incorporate:
Shanks
Automotive Shank
Straight Shank
Morse Taper Shank
Male Pilot
Sockets
Morse Taper
Morse Stub Taper
Komet ABS
Eclipse Radial
Male Pilot
Female Pilot
Macon Straight
Collet